Cruises for Families: Traveling With Five
Planning an affordable family cruise vacation may seem impossible when your family count seems to exceed the capacity of most cruise line's standard rooms. If you're on a strict budget, any room category with the word "suite" attached to it drives your costs up significantly. Believe it or not, you can cruise with your children, in comfort and without breaking the bank. I have included a small sample of the options available when cruising on NCL, Carnival and Royal Caribbean Cruise Line.
Family Staterooms on Caribbean Cruises
Purchasing the least expensive cabin and cramming your entire family inside is not an ideal family vacation–well, at least not for me. I have younger children, so we tend to spend a good amount of time in our cabin. True story–on our last cruise  to the Bahamas, our very persistent 3-year-old refused to do the "#2" in any other bathroom but ours!!! I know you're thinking not a big deal right? Wrong! This little person has one of the most well functioning large intestines that I have ever seen. Literally, after every meal, we were racing up to our room so she could take her time using "our bathroom."
Lets get back on track here. As I was saying, you want to be as frugal as possible to help keep your costs down when traveling with a larger family. Thankfully, many cruise lines offer family staterooms that can accommodate up to six people and sometimes more depending on the cruise line. This is a great option whether you're traveling with little ones and teens. Sometimes it takes a little research and a lot of calling because these rooms are not always listed online. This list should get you started in the right direction.
Royal Caribbean Cruise Line
RCCL has family staterooms that can accommodate up to six people. The rooms include two twin beds that can be converted into a larger bed, a pullman and/or sofa, a set of bunk beds located in a separate area and a separate sitting area. These rooms are available in interior, ocean view and balcony room categories. The ships that offer these family suites include:
While the decoration and arrangement of RCCL staterooms will vary with each ship, I have included a sample layout of an ocean view family state room: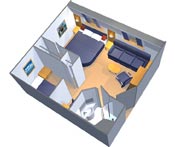 Carnival Cruise Line
Carnival has a vast selection of ships that can accommodate a family of five. Carnival Sunshine, Fantasy and Breeze are just samples of the ships available with this large fleet of ships. However, Carnival Magic and Carnival Dream are the two newest ships that I want to focus on because Carnival did an excellent job at offering larger families the perfect set of amenities and spacious cabins.
Carnival Dream and Carnival Magic have family cabins that sleep five people with with two bathrooms. That's right "two" bathrooms! The first bathroom has a shower, sink and a toilet. The second bathroom has a bathtub and a sink. How awesome is that? Check out the floor plan below.
Norwegian Cruise Line
Norwegian Cruise Line (NCL) caters to families with children of all ages. It is only natural that it provides the appropriate accommodations. NCL has many staterooms options for large families if you're willing pay a few thousand dollars for 2-3  bedroom villas and suites. However, if you're a frugal cruiser like me, this is just not an option.
NCL Breakaway has family staterooms that sleep up to five people. These staterooms have two lower beds that can convert to a queen-sized bed, a sofa with a separate sitting area, bedding for additional guests, a bathtub/shower combination and vanity. These rooms are available in the ocean view category with a large picture window. Please note, there aren't any bathtubs in rooms 5140, 5138,, 5738 and 5740.
Choose Connecting Staterooms
If your options are limited, consider connecting  cabins. This is a great way to keep your large family together while vacationing. Make certain you ask for rooms with doors that directly connect the two staterooms, instead of  choosing rooms that are just simply located side-by-side. Many cruise lines have these types of rooms available in most room categories including inside staterooms. Just make certain you plan ahead and book these rooms as soon as possible because they fill up fast.